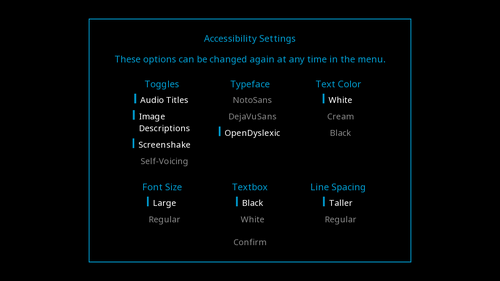 It's been almost a year since the last update, but I hope the wait was worth it! In this update, you'll find:
NVL textbox background now changes along with the ADV counterpart, and no longer causes an error
Extras screens now have their own file, aptly named extras.rpy
The Caption Tool by npckc that is packaged has been updated to fix the audio title bug
New coding comments in screens.rpy, captiontool.rpy, extras.rpy, etc.
Added presplash.png to the game's directory, which shows an image before the game is launched
New screen upon first launching the game replaces the old accessibility prompts, and allows the player to set text and textbox options as well
I consider this the final update to the GUI template for the time being, though if you have suggestions for other features that may be widely used in visual novels, please contact me on Twitter or Discord and I can see what I can do.
Thank you to all of you who have donated to this project in the past. I highly appreciate all of your support, and hope that you all will continue making fantastic games!

Files
GUI Template 2.5.zip
12 MB
May 12, 2021
Get Ren'Py All-In-One GUI Template