Version 2.4.5 - Almost there
---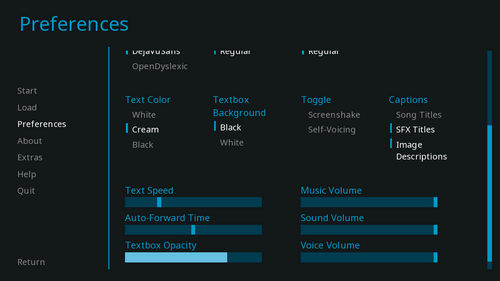 Thank you all for your patience. This update adds several new features, including changing the text color and textbox background. I do wish I could have released this as V 2.5, but unfortunately, there were a few roadblocks that came up during the rewrite of several accessibility functions.
Placing multiple button actions for the Typeface setting would sometimes cause multiple buttons to stay highlighted even when set to a different preference, due to the limitations of radio buttons. As a result, settings such as the text size and line spacing are no longer automatically adjusted when switching fonts. This is a minor inconvenience, as players can choose the other options available to adjust the text settings to their needs.
A more major bug however, did cause an error while running the template during NVL mode. NVL mode is unique in that it must retain several entries of text, and when the textbox background is changed during NVL mode, an error will occur due to several items attempting to update simultaneously. While the player can simply rollback and continue as normal, this may cause concern and thus I've commented it out for now.
This template is now an entry in Access Jam 2020, which I hope brings more awareness of it to move developers.

Files
GUI Template 2.4.5.zip
12 MB
Jun 20, 2020
Get Ren'Py All-In-One GUI Template